About KI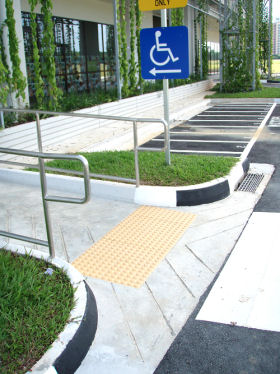 Kinetics Industries Pte Ltd was incorporated in June 2003 to manufacture and market a unique non-slip stainless steel grade 316 tactile ground surface indicator.
Based in the Republic of Singapore, our company specialised in the research and development, manufacture, production and installation of stainless steel tactile ground surface indicator.
These tactile indicators are used to assist in the movement of those who are blind and vision impaired.
Our business philosophy is simple and is encapsulated in the following 5 principles:
Make it Our Own – Your challenge is our challenge and we are here to help you solve it.
Everything Matters – We work with our partners for a win/win solution.
Surprise and Delight– We love to surprise and delight our customers.
Efficient and Reliable – We are fast in our turnaround times and you can count on us for all your tactile needs.
Leave Our Mark – We are proud of our tactile indicators and our testimonials are the many "marks – tactile indicators" that we have installed in mass rapid transit stations, in shopping malls, in public institutions such as hospitals and schools.
We are a supplier and installer for Stainless Steel Tactile Stud and Strip and also Homogeneous Unglazed Ceramic Tactile Tile . Our tactile indicators have been used extensively in Asia, from Singapore to Dubai, in mass rapid transits , commercial buildings, shopping malls, residential condominiums, as well as places of higher learning .
Our tactile indicators used in MRT projects and are approved by the Land Transport Authority (LTA).